According to Kanoon General Directorate for Public Relations and International Affairs, by expressing the fixed motto of the festival "The Future Must Be Built", the designer of the poster said, "According to the festival motto, our approach in designing the previous posters was a view towards future horizons. That is why the main characters of the poster were staring at distant horizon as the Magic Bean was doing. The same motto is seen on the poster from a different aspect."
Salman Taheri said, "In this round of the festival, we were intending to display "The Future Must be Built" from a different aspect. Therefore, in the background we used "The Old Man and The Turnip", an Iranian ancient tale. Kanoon has produced various products based on the tale.
He said "The Old Man and The Turnip" was the base. We were intending to display the era of technology and progress by rewriting ancient Iranian tales with an eye on the festival motto: "The Future Must Be Built". For this purpose, we added a robot to the poster designing.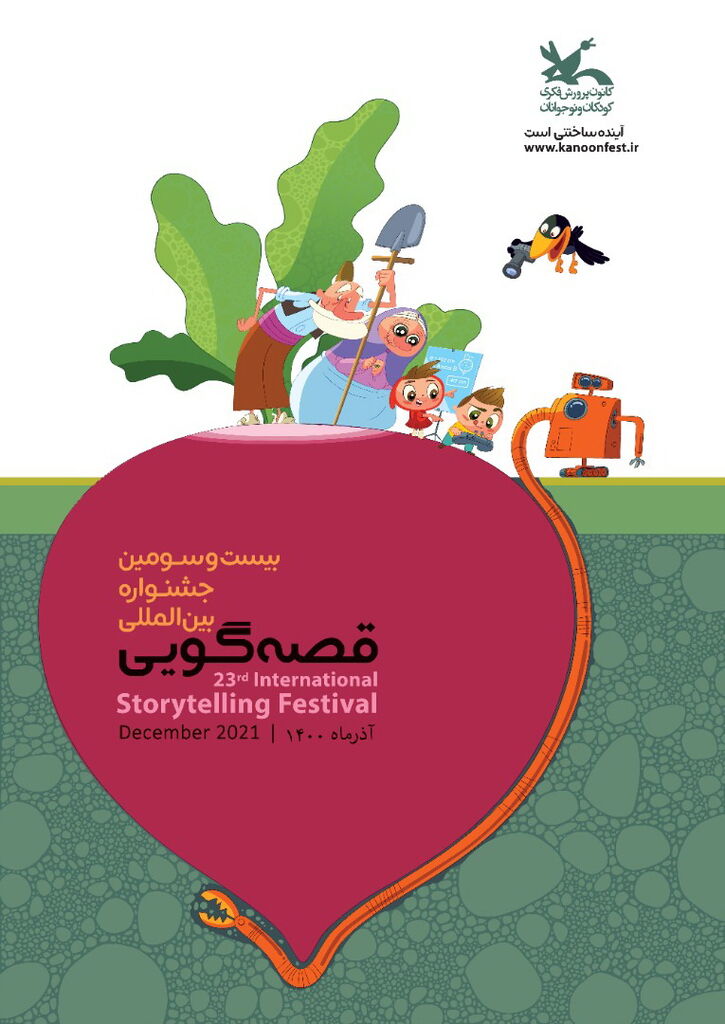 He added, "This robot loves the environment, uses clean energy that harms the environment the least, he removes the turnip. Children help the old couple, the owner of the garden, in this regard.
The designer of the 23rd International Storytelling Festival with regard to the pandemic said, "We were not willing to mention the present period of time in the poster. We hope to pass through this condition the sooner. The main topic for us the future."
At the end, Taheri said, "Having a part in such an atmosphere is lovely and an honor. I hope all stages of the festival are held well.