According to Kanoon General Directorate for Public Relations and International Affairs, "The Giving Tree" will be screened in the form of "Showing Shows" plan on the occasion of 13 Aban and in honor of the Pupil Day by Kanoon Theater and Puppet Theater Production Center. This play is free adaptation of "The Giving Tree" by Shel Silverstein translated by Razi Hirmandi. It is the story of the friendship between a boy and a tree. In the summary of the story we read: one day a boy makes friend with a tree. The tree helps the boy in all the stages of life and provides the boy with everything without any expectations in order to be able to see him every day and talk to him. The boy grows up and goes so far as to cut off even the trunk of the tree for his livelihood, but the tree is hopeful and satisfied with his friendship. This play produced at Kanoon Theater Center in 2002.
Based on the news, actors and puppeteers in this play are Ali-Reza Ebrahimi, Nazli Amir-Ghasemi, Zahra Valizadeh, Fereshteh Sinjeli, Mojgan Alavi, Leila Moien, Mehrgan Alavi, Saman Alavi, Saman Mohammadi. Ali- Akbar Golkar Parvin is the TV director, sound and music recorder.
Amir Jokar is the puppet maker and designer. Saman Mohammadi is the stage designer, Ali-Reza Hosseinpour and Mohammad-Reza Shamlou have designed and made decoration; Hassan Dadshekar is light designer and Parviz Mahallati is poster and brochure designer.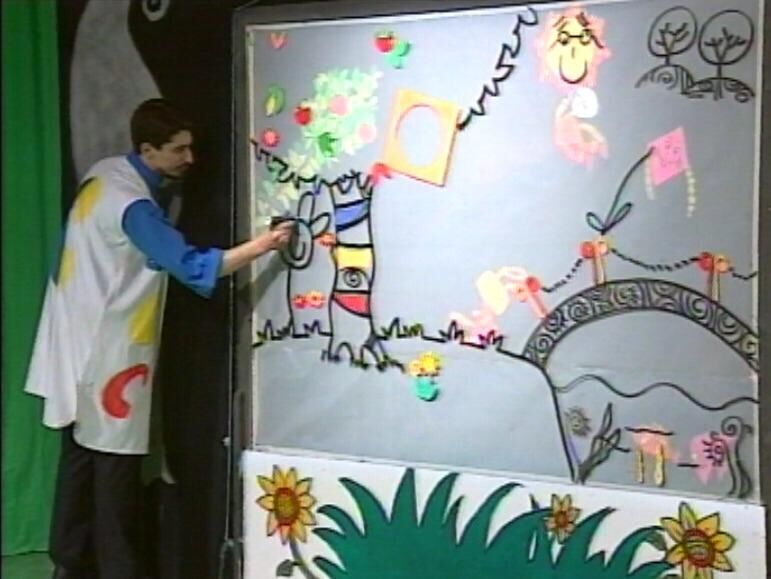 Pantea Sari Aslani is the stage secretary and poet for "The Giving Tree" and Farzad Talaelo is the composer.
Yadollah Vafadari is the director consultant, Farokh Pourjalali is the director assistant, Ali-Asghar Khatibi is the light and sound operator, Azadeh Adibi is the stage manager, Namdar Gouneh Farahani is the production manager, Morteza Taheri is the executive manager and Khadijeh Far Mahini is in charge of public relations in the play.
The interested can watch "The Giving Tree" at: http://cinema.kpf.ir/