According to Kanoon General Directorate for Public Relations and International Affairs, Mirela Grecu, the ambassador of Romania in Iran appreciated Kanoon member winners and their families in a ceremony held at the Embassy of Romania in the presence of Kanoon officials.
The Romania ambassador said that Romanian officials were pleased that Iranian children had taken an active part in world competitions, especially Romanian painting contest. "Iranian artful children will be Iran's main ambassadors to the world and this is a good omen for the future of any country."
Carmen Grecu added, "I am grateful to Kanoon officials for their cooperation and endeavor to collect paintings by Iranian children from all over the country and to send them to Romania Painting Contest."
She added: "In the meantime, we should also thank the parents and the educators of these small artists who have led the talent of these children to flourish through their efforts."
Romania ambassador said: "I am very happy to get acquainted with Kanoon Associations and I hope we can hold a painting competition in Iran with the participation of all children."
In the end, Grecu expressed her interest in visiting Institute for the intellectual development of Children and Young Adults and stated: I hope that the conditions for visiting Kanoon and getting acquainted with this large complex will be provided.
Jafar Goudarzi continued, "Kanoon is one of the organizations that intends to prepare the facilities to develop children intellectuals and to flourish their creativity. Kanoon and its Bird is known all over the world. Kanoon associations is a unique organization with high potentials. With 1000 cultural centers, Kanoon hosts Iranian children all over the country. Interaction with all international institutions, organizations and countries in the world sharing the same goals is one of the tasks met by Kanoon.
He added that Iranian kids are among the most talented and tasteful children in the world. We believe investing on them is not expenditure but it guarantees a dynamic, bright and hopeful future for our dear country. It should be said that in this ceremony the winners of Romania Painting Contest received their honorary diploma and medals from Romania ambassador.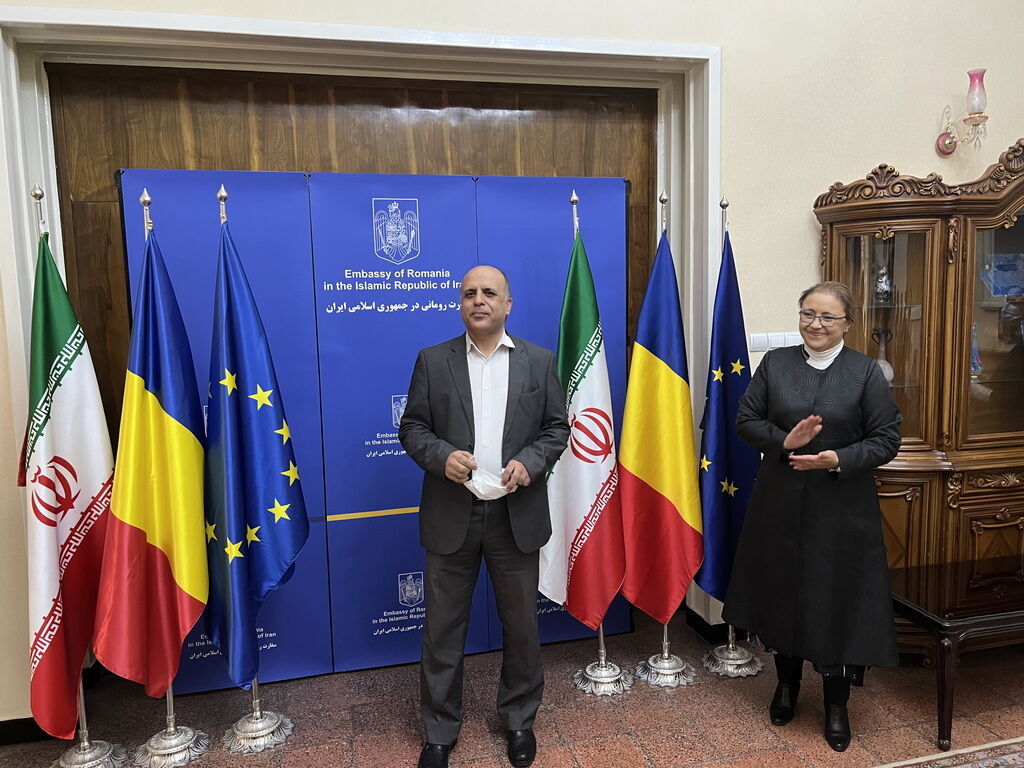 It is reminded that "Kimia Poorrezaei", 9, from Kanoon in Behbahan, Khuzestan Province, "Anisa Jaaferi", 7, from Khorram Abaad, Loerstan Province; "Fereshteh Abdi", 12, "Hadiseh Alemi", 10, both from Kanoon in Shirin Sou, Hamedan Province; "Elnaz Khoda Bakhshi", 10 from Charmhin, Isfahan Province; "Negin Yarali, 14 from Daran, Isfahan; "Nikou Jannati", 12 from Malek Shahr, Isfahan. "Setayesh Nasouhi", 11 from Mobarakeh, Isfahan; "Nirvana Roustaei", 10 from Ahvaz, Khuzestan Province; "Bita Jeddi" 10 from Garmi, Ardabi Province received gold medal and honorary diploma from Fifth International Art competition for Children Piatra Neamt, Romania.